Prispevek zapisala: Laura Bauza Canellas*
This manifesto is the result of work done on multiple national and two international meetings in 2020, by more than 80 youth representatives from the 4 countries involved: Slovenia, Poland, Italy and Austria. It gathers the common political, social, environmental and economic demands of the Central European Youth for global changes of our societies.
Despite a few adventures – like flight cancelations, impossibility to enter the European Parliament because of Covid restrictions and so on – the group managed to have a great time in Brussels with the groups from Italy, Poland and Austria! The group visited the city and the neighbourhood of the hostel: Molenbeek, enjoyed Belgian waffles and restaurants, and of course had some workshops to prepare the presentation to the members of EU parliament. 
The groups were finally welcomed in the Austrian representation's building on the 28th of September 2021, thanks again to the Austrian team who made this event possible! 
There, we watched the video presentations from several MEPs, among them Irena Joveva (Slovenia), in which they shared what the manifesto inspired them, highlighting some specific topics like education, environment. Besides, Mr Klemen Grošelj and Mr Thomas Waitz from Slovenia and Austria were present in real life, which gave them the opportunity to share directly their impressions about the manifesto.
After the introduction, it was the moment for each youth to present the part of the manifesto she or he worked on mostly during the previous days. First came the criticism of our current collapsing system, based on the illusion of infinite growth, second the demands regarding environmental protection, animals rights and climate crisis. Then were voiced demands concerning human rights, political participation, media and democracy, followed by requests about education, health care and social issues, work and labour, spare time and consumption. Finally, demands regarding migration and mobility were formulated.
It wasn't an easy exercise, especially after having received some feedback just before starting to present our requests, but the youth did it! 
After this presentation there was time for exchange of demands, views and opinions, as always too short, but interesting for most of the participants regarding what came up during the debriefing. Because indeed, it was necessary to sit and talk after this experience, to exchange opinions, feelings about what happened, share our frustrations regarding this exercise which appeared a bit artificial to some of us… or on the contrary the words, behaviours that gave us a good impression. 
After 14 hours of travelling by bus the Slovenian delegation was back… let's see what is going to happen during the next My Revolution edition!
"Just as a doctor has to understand the disease before treating it, so we have to understand the system and why it's obviously failing more and more every day. Only through this critique can we start to understand how to replace it with a better system that will provide for a decent life on a liveable planet."
* Laura je aktivna pri Focusu kot pripravnica, od septembra do decembra 2021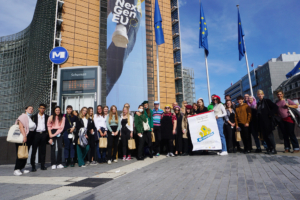 Projekt je podprt s strani programa Evropa za državljane – Evropski spomini.